---
mypage
Decomposition of Reactive blue 182 dye by heterogeneous Fenton technique using modified fly ash / H2O2¬ is a research project of the author Dao Sy Duc, Hanoi University of Science, Vu The Ninh, Institute materials science. This can be considered as one of the solutions for industrial wastewater treatment in the field of textile and dyeing
Decomposition of Reactive blue dye 182 using heterogeneous Fenton technique using modified fly ash with new innovations in textile wastewater treatment industry?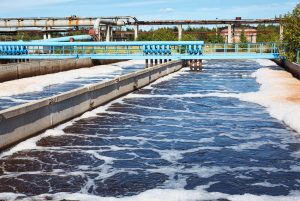 A new step in industrial wastewater treatment (illustrative)
As we know The characteristics of the textile industry's waste water are: High COD / BOD ratio, high temperature, constantly changing wastewater characteristics, always-changing wastewater flow, pH of Wastewater fluctuations, high or low depending on the dyeing technology and dyes, high color due to the amount of residual dyes entering the water, the content of sulfite toxins, heavy metals, halogen compounds … dye mixed with sewage. Due to the diverse chemical composition, textile dyeing wastewater can be solved by many different techniques, using different treatment technologies. In many cases, however, advanced oxidation techniques are the only option for treating or pretreating organic pigments, since many dyes are nearly zero or difficult to decay. removed by conventional biological and physicochemical techniques, although certain limitations exist such as the creation of a post-treatment, high cost sludge that is susceptible to many strange ions or products. intermediation … Research and development of heterogeneous Fenton catalyst systems based on the use of natural ores or industrial solid wastes such as pirit slag, red mud, fly ash … can overcome the disadvantages of conventional advanced oxidation techniques.
Decomposition of Reactive blue 182 dye by heterogeneous Fenton technique using modified fly ash / H2O2 (research project on industrial wastewater treatment of textile and dyeing industry at Hanoi University of Social Sciences and Humanities)
In this work, fly ash is denatured and used as a catalyst for Fenton heterogeneity in the target of decomposing color Reactive Blue 182 (RB 182), a commonly used color, especially in trade villages like Duong Noi and Van Phuc (Hanoi).
Fenton heterogeneous process with catalysts modified with iron (III) chloride salt is used to decompose Reactive Blue 182 (RB 182). Some basic properties of raw fly ash and denatured fly ash were determined through SEM, EDX, and XRD techniques. The effects of several important factors such as catalyst content, pH and hydrogen peroxide concentration on treatment efficiency were studied and discussed; at the same time the decomposition rate RB 182 is also determined. Experimental results show that the Fenton heterogeneous technique with modified fly ash is suitable to remove RB 182. dye. Under the optimal conditions including catalyst content, hydrogen peroxide concentration, pH, process removal of RB 182 was shown to adhere to first order kinetics, with a processing efficiency of approximately 90% after 90 minutes.